Beacon Free Press This Week...
The Beacon Free Press has been Beacon's primary center of news and entertainment coverage for over 25 years. Coverage includes local city and school news and features, Dutchess County Legislature, county legal notices, obituaries, plus coverage of arts and entertainment, hospitals and health, education, libraries and local businesses and organizations.
---
ADVERTISERS: Work together and save money
Click here for the Promotion Flyer
---
12/12/18 Highlights of this week's edition...
---
Holiday Fine Arts and Crafts Small Gifts Show at Howland Cultural Center until Dec. 23
By Kristine Coulter
(Continued from Home Page) "They hear it's local artists selling goods. It's giving back to the community by buying local products," she noted.

There are 27 local artists participating in this year's event.
Beacon resident Zoe De La Fortuna is one of the artists taking part in the show.

"I'm teaching in Newburgh," explained De La Fortuna. She makes designs on shirts to support one of her former students through college at Western Michigan University.

De La Fortuna said the student, who is from the Dominican Republic, has a scholarship. The proceeds from the shirts are helping her with her living expenses, remarked De La Fortuna.
Read the full story in this week's print edition.
---
The gift of a new kidney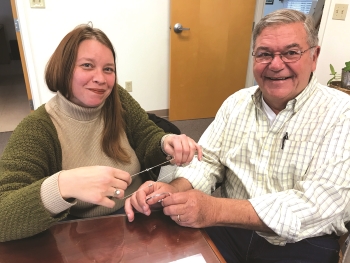 'She's my lifesaver'
By Kristine Coulter
Fishkill resident Sterling Gaston is all smiles when he sees fellow Fishkill Rotarian Julie Spann. It was just over a year ago that Spann changed and improved Gaston's life by donating one of her kidneys to him.

Gaston explained he has polycystic kidney disease. According to the Mayo Clinic website, "Polycystic kidney disease (PKD) is an inherited disorder in which clusters of cysts develop primarily within your kidneys, causing your kidneys to enlarge and lose function over time. Cysts are noncancerous round sacs containing fluid. The cysts vary in size, and they can grow very large. Having many cysts or large cysts can damage your kidneys."
Gaston said his mother had the disease, but they did not know it.

"I found out I had polycystic kidney disease when I had a kidney stone," he said.

In April 2001, Spann began working as the library director for Blodgett Memorial Library in the Village of Fishkill. Gaston was one of two people that interviewed Spann for the library director position. He was the library board president at the time.

It was in May 2001 that Gaston had to have surgery for an aneurysm in his head at Columbia-Presbyterian Hospital in New York City.
Read the full story in this week's print edition.
---
Inside the Dec 12-18, 2018 issue:
In unofficial results, Republican incumbent Sue Serino has narrowly defeated Democratic challenger Karen Smythe in the New York State District 41 senate race.
After the counting of absentee and affidavit ballots, Serino won by a count of 51,790 to 51,144 – a difference of 646 votes
by Tom Zurhellen
In our previous Dispatch, we talked about how veterans organizations like the VFW and American Legion can be almost invisible in our communities, even though they do so much for veterans and others in need. Sure, we've heard of the VFW, and we might have seen their funny hats now and again – but do we understand what they actually do?
This week, I'd like to build on that conversation by sharing a story which might shed some light on the vital work by people I am proud to work with. These are the folks I like to call our "invisible heroes."
Recently I got a call from a case worker at the VA hospital at Castle Point. "Honestly, I don't know who else to call," he said, exasperated. "The VFW is literally my last hope."
For many children in the Hudson Valley, Christmas is not always a joyous time filled with gifts and treats. Dutchess County's Love Holds Life Children's Cancer Foundation is doing their best to make sure kids from underprivileged and middle class homes have a special celebration. For the second time, the non-profit will be holding a Cookies and Cocoa With Santa at the Lewis Tompkins Hose Company, 13 South Ave., in Beacon on Dec. 15 from 10 a.m. to 1 p.m. Santa himself will be handing out new unwrapped toys for all children. Cookies and, or course, hot cocoa will be served with several special surprises in store for attendees.
Dutchess County Executive Marc Molinaro announced Arts Mid-Hudson is currently accepting nominations for the 2019 Dutchess County Poet Laureate appointment now through Jan. 2, 2019.
Molinaro said, "The arts community thriving in Dutchess County is another reason we are Distinctly Dutchess. These talented men and women of all ages contribute to our tourism industry and improve our quality of life. The Poet Laureate appointment recognizes an individual who not only celebrates our community through his or her poetry, but also helps inspire and educate. If you are or know of an exceptional poet who will continue this great tradition, I encourage you to submit a nomination."
Read the full story in this week's print edition.