Beacon Free Press This Week...
The Beacon Free Press has been Beacon's primary center of news and entertainment coverage for over 25 years. Coverage includes local city and school news and features, Dutchess County Legislature, county legal notices, obituaries, plus coverage of arts and entertainment, hospitals and health, education, libraries and local businesses and organizations.
---
ADVERTISERS: Work together and save money
Click here for the Promotion Flyer
---
2/20/19 Highlights of this week's edition...
---
Beacon Fire Chief offers presentations to the City Council
(Continued from Home Page) Among the things to be considered is the history of Beacon Engine. The city owns 1/3 of the station and the volunteers own the other portion, he said. It was built in 1886 and is the oldest of the three stations – which includes Hook Mase & Ladder on Main St. and Lewis Tompkins Hose on South Ave.

Beacon Engine, said Van Voorhis, has the smallest apparatus bay in area and height and there is no apparatus ramp at the station. Another factor is there is no room on site for the necessary expansion.

There were studies done in 2006, 2010, 2014 and 2018.
With grant money Beacon Engine was painted and all three stations received new exterior doors.
Read the full story in this week's print edition.
---
Martin Luther King Jr. essay contest winners announced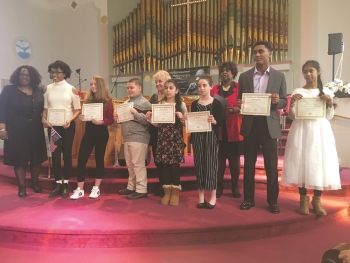 Winners of the annual Dr. Martin Luther King, Jr. essay contest hold their awards. Also pictured are some of the essay contest committee members. Pictured, from left, are Kenya Gadsden, Daisy Okoye, Olivia Lapaz, Carlos Lampon, Gabrielle Khalil, Cameron Just, Sharlene Stout, Joshua Fleming and Farhana Antora.
By Goldee Greene
Finally and with gusto, the city's Dr. Martin Luther King's 90th birthday celebration took place Saturday, Feb. The Southern Dutchess Coalition, Inc. sponsored event, now in its 41st year, was postponed from Jan. 20 due to an ice storm and low temps.

Saturday's festivities included live music, praise dance, youth and adult presentations at Springfield Baptist Church. Rev. Ronald O. Perry is the church's pastor. Breakfast and lunch were served by a legion of community volunteers. Celebratory Speaker was Rev. Anthony Oliver, of the Upper Room Ministries, who gave the annual address on this year's theme "Lift Up Your Heads, See Your People and be Blessed."

The day kicked off with the 6th annual Dr. King Parade, which gains more attendance every year. "Our beloved Beacon resident, the late Peter Seeger, envisioned the parade to bring the city's community together. We warmly acknowledge the generous support from our yearly sponsors," said Jennifer Baker-McClinton, SDC president. All activities and meals were offered free of charge to the public. A diverse assortment of the community including local elected officials, were in attendance.

Read the full story in this week's print edition.
---
Inside the Feb 20-26, 2019 issue:
You can win a three-night all-inclusive stay for two at the Iberostar Resort in the New Prestige Tower in Cancun, Mexico at this year's Bridal Show with Fashions on Sunday, March 3, from Noon – 3 p.m. at The Garrison.
You must sign up prior to the show to be eligible to win prizes. It's easy –just send an email to garrisonbridalexpo@sdutchessnews.com. You will receive a confirming response.
Legislative Chairman Gregg Pulver and Dutchess County Executive Marc Molinaro announced the legislative introduction of a completely redesigned Code of Ethics and term limits for the offices of Legislator, County Executive, and Comptroller. In 2017, the Chairman and Executive formed the Ethics and Independent Reapportionment Advisory Committee with the mandate of producing a more thorough and strict Code of Ethics and Financial Disclosure. The proposed Code is based on the recommendations of the Committee.
The founder of Hudson Valley House of Hope (HOH), Reverend Luader Smith, retired from her position as the nonprofit organization's executive director effective Friday, Feb. 15.
A labor of love, Rev. Smith founded the emergency shelter for individuals and child victims of domestic abuse in 2008. House of Hope (HOH) operates a 24-hour emergency shelter with 14 beds. The nonprofit, which primarily serves southern Dutchess County, also offers a crisis hotline, crisis intervention, life skills programs and counseling.
"Rev. Luader Smith's uncompromising passion and vision created an organization that has been helping those suffering from domestic violence regain their lives and dignity for more than a decade," said HOH Board Chairwoman Kathy Martin. "The HOH board, staff, and members of the nonprofit human service community are exploring appropriate ways of honoring this incredible woman and will share these ideas with the public after consulting with Rev. Smith."
Every 40 seconds, someone in America has a stroke or a heart attack. Less than one third of high school students get the recommended amount of daily physical activity and 30 million people in the United States have no easy access to healthy food. The American Heart Association, the world's leading voluntary organization focused on heart and brain health, is on a mission to improve these statistics, and has teamed up with more than 70 companies around the country to do so through the Life Is Why We Give™ fundraising campaign.
Read the full story in this week's print edition.