Northern Dutchess News This Week...
The Northern Dutchess News is a member of the Southern Dutchess News group and is fast becoming a staple in the lives of individuals in communities north and east of Poughkeepsie. Already named an "official newspaper" of Stanfordville and Rhinebeck, it also serves Hyde Park, Red Hook, Tivoli, Milan, Pine Plains, Amenia, Dover, Millbrook, Clinton Corners, Salt Point and Pleasant Valley. The Northern Dutchess News provides coverage of local town, village and school news, the Dutchess County Legislature, county legal notices, obituaries, plus coverage of arts and entertainment, hospitals, 4-H clubs , farming news, businesses and organizations.
---
ADVERTISERS: Work together and save money
Click here for the Promotion Flyer
Click here for the list of locations, by community, where you can pick up Northern Dutchess News today....
Notice of early deadline
Due to a holiday press schedule for the Fourth of July, the ad deadline for the July 5 issue of Northern Dutchess News is Thursday, June 29, at noon. Editorial and calendar listings must be submitted by Wednesday, June 28. Call (845) 297-3723 for more information.
---
6/21/17 Highlights of this week's edition...
Teachers learn about local ag during Walbridge Farm visit
by Jennifer Brizzi
(Continued from cover) The guests, who included staff of local culinary programs, had the opportunity to meet farmers—both local and from South Dakota—and were invited to ask questions about how they care for their animals, "from conception to consumption," as well as learning about the nutritional value and various flavors of different types of beef.

The four-hour event was intended for teachers to bring knowledge back to their classrooms about local farming, so that students who might not have the opportunity to visit a farm might learn about agriculture and how it fits into the community.
Read the full story in this week's print edition.
---
Tyner: 'I'm not an anti-Semite'
by Ray Fashona
Dutchess County Legislator Joel Tyner, D-Clinton/Rhinebeck, who is facing censure next month by the Legislature, acknowledges he reacted to Public Works Commissioner Robert Balkind's assertion that the commissioner was doing his job by firing back: "like the Germans did 70 years ago."

The discussion in the Democratic caucus June 5 centered on the city bus line being subsumed by the county Loop bus system. The city has said it simply does not have the money to continue operating its bus system beyond July 1. The county has agreed to step in and provide service on city routes.

What routes will be served is a bone of contention. Balkind, whose department oversees transit, said the county is aware the new routes are not perfect but will be adjusted quarterly to meet riders' needs.

City bus riders have protested the move for months, speaking out at City Council and County Legislature meetings. During a discussion about the holes in the routes, Balkind said the county would go ahead with the initial plan because the schedules had already been published.

That's when Tyner, who said he was "very upset," made the remark about the Germans.
Read the full story in this week's print edition.
---
Charged up: Powerhouse season opens Friday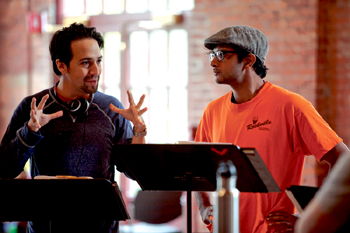 Josh Radnor ("How I Met Your Mother") will premiere his play, "Sacred Valley," on the Powerhouse Mainstage. Courtesy photo
The 33rd Powerhouse season will run from June 23 to July 30 on the Vassar College campus in Poughkeepsie.

Powerhouse Theater is a collaboration between New York Stage and Film and Vassar College dedicated to both emerging and established artists in the development and production of new works for theater and film. The Powerhouse program consists of an eight-week residency on the Vassar campus during which more than 300 professional artists and 40 participants in the Powerhouse Training Program live and work together to create new theater works.

Highlights of this season include:

- The cast of Powerhouse alum and "How I Met Your Mother" star Josh Radnor's playwriting premiere, "Sacred Valley," which will include TV regulars Michael Chernus ("Orange Is The New Black"), Abigail Spencer ("Rectify," "Timeless") and David T. Patterson ("The Path"). The first mainstage play will be directed by Sheryl Kaller, and will play the Powerhouse Theater from June 29 to July 9.
---
ALSO in the June 21-27, 2017 issue:
Renegades prepare for 2017 season
Women leaders engage at ILA conference
Bridge replacement work under way in Milan
Hyde Park Democrats announce November slate
Forum set on fostering community climate resilience
Serino to host 'Stop the Bite' forum at Wallace Center
Third anniversary celebration held at Taste NY Market at Todd Hill

Cornell Cooperative executive director Ruth Moore is pictured with New York State Commissioner of Agriculture Richard Ball and Taste NY at Todd Hill Market Manager Lachele Coninx-Wiley. Courtesy photo
EPA review projects long-term success for Hudson River PCB cleanup
In Creative Living:
Ron reviews 'It Comes at Night'
That's Italian! Rigatoni Bolognese
Ani DiFranco to play Bardavon Oct. 6
Woodstock festival site added to national Register
Clinton Vineyards to 'pop the cork' on 40th vintage June 24
'Murder at the Speakeasy' a brew of music, mayhem and fun
Rhinebeck Crafts Festival to offer unique handmade items, family activities

The Rhinebeck Crafts Festival, set June 24-25 at the Dutchess County Fairgrounds, has something for everyone in the family, including handmade wares and family activities. In the photo, Chong Lim demonstrates engraving and embossing at a previous festival. Courtesy photo
---
Schools of the Week:
If your school has a program you'd like to see featured in School of the Week this session, e-mail northerndutchess@sdutchessnews.com and put "School of the Week" in the subject line.