Northern Dutchess News This Week...
The Northern Dutchess News is a member of the Southern Dutchess News group and is fast becoming a staple in the lives of individuals in communities north and east of Poughkeepsie. Already named an "official newspaper" of Stanfordville and Rhinebeck, it also serves Hyde Park, Red Hook, Tivoli, Milan, Pine Plains, Amenia, Dover, Millbrook, Clinton Corners, Salt Point and Pleasant Valley. The Northern Dutchess News provides coverage of local town, village and school news, the Dutchess County Legislature, county legal notices, obituaries, plus coverage of arts and entertainment, hospitals, 4-H clubs , farming news, businesses and organizations.
---
ADVERTISERS: Work together and save money
Click here for the Promotion Flyer
Notice of early deadline
Due to the Memorial Day holiday, the ad deadline for the May 31 issue of Northern Dutchess News is Thursday, May 25, at noon. Editorial and calendar listings must be submitted by Wednesday, May 24. Call (845) 297-3723 for more information.
Click here for the list of locations, by community, where you can pick up Northern Dutchess News today....
---
5/17/17 Highlights of this week's edition...
'Butter day ahead' for Millbrook Literary Festival
'Rich History' among author presentations
by Kate Goldsmith
(Continued from cover) Appearing for the first time is Elaine Khosrova, author of "Butter: A Rich History." A former pastry chef and graduate of The Culinary Institute of America, Country Living kitchen test editor and food journalist, Khosrova traveled around the globe to learn the history of this beloved fat. She'll bring along samples of different butters for visitors to sample.

Read the full story in this week's print edition.
---
Strawinski won't seek re-election
Red Hook Democrats select Munn to run

Dutchess County Legislator Micki Strawinski (left) will not seek re-election in November. The Red Hook Democratic Committee has endorsed Kristofer Munn (right) in her place. Courtesy photo
by Ray Fashona
Dutchess County Legislature Minority Leader Micki Strawinski, D-Red Hook, has announced she will not run for re-election in November.

Strawinski, who has served two terms in the Legislature, is stepping aside for personal reasons.

"After two terms in the County Legislature and four years on the Red Hook Town Board, I've decided not to seek re-election this fall so I can spend more time with my family," Strawinski said. "I plan to stay involved in Red Hook as a volunteer and in local organizations."

The Red Hook Democratic Committee endorsed Kristofer Munn to run in her place.
Read the full story in this week's print edition.
---
Bannerman Island season to feature tours, special performances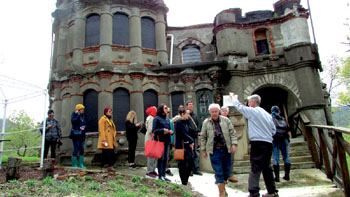 Tours of Bannerman Island are offered on Saturdays and Sundays through October, with departures from Beacon and Newburgh. Courtesy photo
by Kristine Coulter
Tours to Bannerman Castle, on Pollepel Island (also known as Bannerman Island) in Fishkill, are now being offered for the season to the public. Numerous productions on the island will be given during the spring and summer months.

"We have been doing tours since 2004," said Neil Caplan, executive director and founder of the Bannerman Castle Trust Inc. "We have incredible tours that go to the island."

The tours last about 2 1/2 hours. Visitors take the Estuary Steward, a Coast Guard-inspected boat, over to the Island.
---
ALSO in the May 17-23, 2017 issue:
Interfaith Celebration set at Innisfree Garden
Pleasant Valley starts Active Military Honor Wall
Molinaro announces year-end 2016 financial condition
Pine Plains prepares for Memorial Hall groundbreaking

This rendering shows what the Pine Plains Memorial Hall will look like when restored. Courtesy image
Troop K encourages motorists, bicyclists to share the road
Taste of Rhinebeck raises $26,000 for Northern Dutchess Hospital
Barrett Art Center to participate in collections assessment for preservation program
In Creative Living:
Love to Cook: Coffee Cake is fine anytime
Aerodrome to honor US entry into World War I

This year's Spirit of the Aerodrome Gala event marks the 100th anniversary of the United States' entry into World War I and features the Aerodrome's 1918 Curtiss JN4-H "Jenny." Photo by jim donick
Tourism award winners celebrated at breakfast event
Open House & Car Show set June 3 at HV Regional Airport
Ron reviews 'Norman – The Moderate Rise and Tragic Fall of a New York Fixer'
---
Schools of the Week:
If your school has a program you'd like to see featured in School of the Week this session, e-mail northerndutchess@sdutchessnews.com and put "School of the Week" in the subject line.